Veneers & Lumineers® in Fairfax, VA
Have you been searching for a way to achieve a beautiful, celebrity-like smile? At Sapphire Dental, we offer a variety of cosmetic dental treatments, including porcelain veneers and Lumineers. Dental veneers are a great way to give your smile a more uniform look. Whether you opt for traditional porcelain veneers or ultra-thin Lumineers, your smile can go from dull to dazzling in no time. Schedule your consultation with our professional veneers dentist today!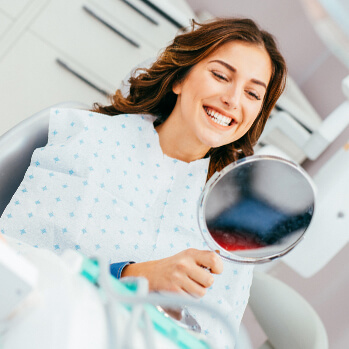 Dental Veneers
Dental veneers are a great option for perfecting your smile. Veneers cover up the front of your teeth to create a virtually flawless smile. They are thin laminates made of porcelain or resin which are custom-made for each mouth. These laminates are then bonded to the tooth to change the color, size, length or shape. Dental veneers are ideal for correcting a variety of cosmetic issues, such as chipped or broken teeth, stains, gaps, misalignments, irregularly shaped teeth, and worn-down teeth.
Porcelain Veneers vs. Lumineers
The main difference between traditional porcelain veneers and Lumineers is the preparation process. Traditional veneers are a bit thicker, requiring more modification to the natural tooth beneath them, while Lumineers are extremely thin and call for less enamel removal or shaving. Either way, the modification is typically irreversible, making veneers a permanent treatment. Though the process differs, both options are extremely durable and long-lasting.
Dental Veneers Process
It usually takes several visits to get veneers put on your teeth. The first visit involves treatment planning. At this appointment, you will discuss your goals with the dentist. The dentist will examine your teeth and see if you are a good candidate.
To prepare your teeth for veneers, the dentist removes enamel from the teeth. This is done with a local anesthetic to avoid pain. Next, the dentist will make an impression of your teeth, which is sent to a lab. The lab will then create your veneers and have them ready within a few weeks.
The next step is to bond the dental veneers to your teeth. The dentist will temporarily place the veneers on your teeth and then trim them as needed. The teeth are then cleaned and polished in preparation for the bonding. Once the veneers are in position, the dentist will apply a special cement and use a special light to dry the cement quickly.
Afterward, the dentist removes any excess cement. He or she will then evaluate your bite and make adjustments as needed. You will be asked to return for a follow-up visit in several weeks to see how the veneers are adapting to the teeth and gums.
Treatable Cases
Veneers can correct a variety of dental issues, including discoloration, gaps, tooth length, and the shape of each tooth. You may choose to undergo a full smile transformation by covering each natural tooth with a veneer, or only capping the teeth that have flaws. Either way, your veneers will be custom made to match the exact shade of your natural smile. During your initial consultation, we'll discuss what you'd like to change about your smile and create a personalized treatment plan to correct it.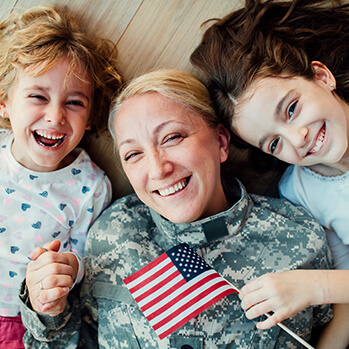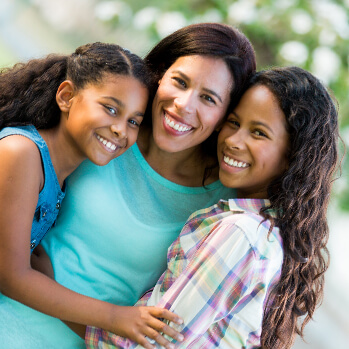 Cost of Veneers
Each patient's treatment plan is unique and the cost of veneers ranges. Here, we strive to provide affordable dental veneers to the Fairfax community. We are insurance friendly and in-network with several providers. For those who are uninsured or need additional assistance with out-of-pocket costs, we also accept payment plans through CareCredit® and LendingClub®. Whatever your financial situation may be, we're more than happy to help you achieve the smile of your dreams!
Schedule a Free Consultation Today
Dental veneers are a great way to improve the look of your teeth. If you have stains, gaps or chipped teeth contact us today. Sapphire Dental in Fairfax, VA offers veneers and other cosmetic dental procedures to help you maintain a dazzling smile for years to come. Schedule a consultation today. Call our office at 703-260-6622 or fill out the online form.