Pediatric Dentistry Fairfax VA
Children need proper dental care just like adults. Because the first teeth eventually fall out, proper dental care is not always emphasized in the early years. However, by scheduling your child's first dental visit by the age of 1, you can establish proper brushing, flossing and other habits that benefit your child's dental health. Your child should see a pediatric dentist who specializes in dental care for children. Children are not just little adults. Many kids have a difficult time sitting still for a dental exam. Going to the dentist for the first time can be a traumatic experience, so it is important to choose a dentist who is great with kids. Pediatric dentists are skilled at treating children from infancy through the teen years – even those with special needs. They may use special equipment to keep your child entertained with movies and games so they feel comfortable during the process. A good pediatric dentist will work with your child and be patient.
Types of Treatment Available
Pediatric dentistry involves comprehensive dental care, including: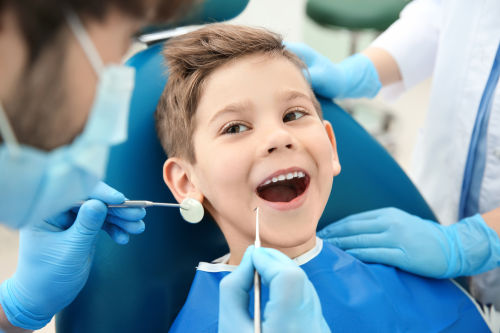 Infant oral health exams

Cleanings

Fluoride treatments

Cavity repair

Orthodontics

Nutrition counseling

Dental habit counseling

Gum disease treatment

Oral conditions associated with diseases such as diabetes, heart defects, ADHD and asthma

Dental injuries
Preventative Care
Dental care is especially important for young children since they are prone to tooth decay. Tooth decay is caused by sugars left in the mouth. Not only do children tend to consume large amounts of sugar, especially through juices and sodas, but they do not always brush their teeth afterward. For this reason, it is important to begin dental checkups early on. A pediatric dentist will use treatments such as fluoride and sealants to prevent decay from forming. Routine dental exams, cleanings and proper oral hygiene offer your child a healthier smile.
Schedule a Dental Exam for Your Child Today
Once your child has his or her first tooth, dental care is essential. Schedule your child's exam today! Sapphire Dental in Fairfax, VA offers exams, cleanings and other preventative services for children. Call 703-260-6622 or book an appointment online.