High-Quality Dental Implants in Fairfax, VA
Are missing teeth causing you to weigh your tooth replacement options? We can help! At Sapphire Dental, we offer quality dental implants to provide you with a long-lasting solution for tooth replacement. Implants may be paired with a dental crown, bridge, or even dentures. So, whatever your unique smile needs may be, there's an option for you. Call to schedule your dental implants consultation with our professional implant dentist in Fairfax!
Complete Your Smile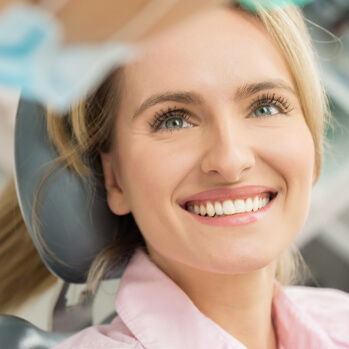 What Are Dental Implants?
Dental implants are small, titanium posts that are surgically placed into your jawbone and eventually fuse with the bone itself. These metal structures serve as replacement tooth roots when you've lost your natural tooth. An implant is just the foundation of your preferred tooth replacement option and must be paired with a restorative piece. When cared for properly, dental implants can last up to 15 years or longer.
Dental Implants Process
During your initial consultation, we will take comprehensive X-rays to thoroughly examine your jawbone density and determine whether you're a candidate for the procedure. For those whose jawbones are insufficient, a bone graft may be performed to generate new growth and strengthen the bone. Next, the implants will be surgically placed into the jawbone and given time to fuse together. Once you're completely healed, a connective structure called an abutment will be attached to the implant. After the abutment is in place, either your dental crown, bridge, or dentures will be connected and your dental implants process will be complete.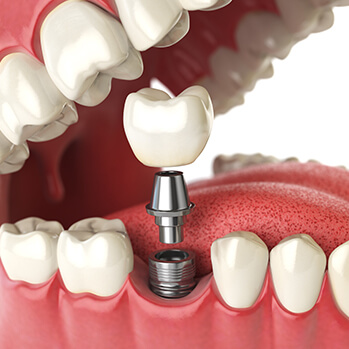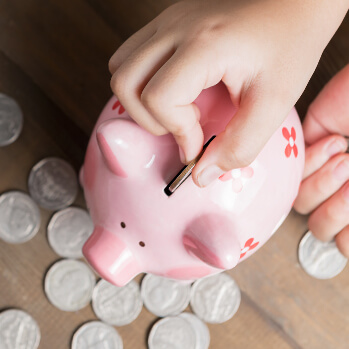 Cost of Dental Implants
Each patient's case is unique and the cost of treatment is determined at your initial consultation. We understand the importance of having a fully functional smile and our goal is to provide affordable dental implants to the Fairfax community. We accept a variety of payment methods, work with several insurance providers, and offer third-party financing through CareCredit® and LendingClub®. Whatever your budgetary needs may be, we strive to fit dental care within them. If you'd like to discuss your financial options in greater detail, please call to speak with a member of our team.